Market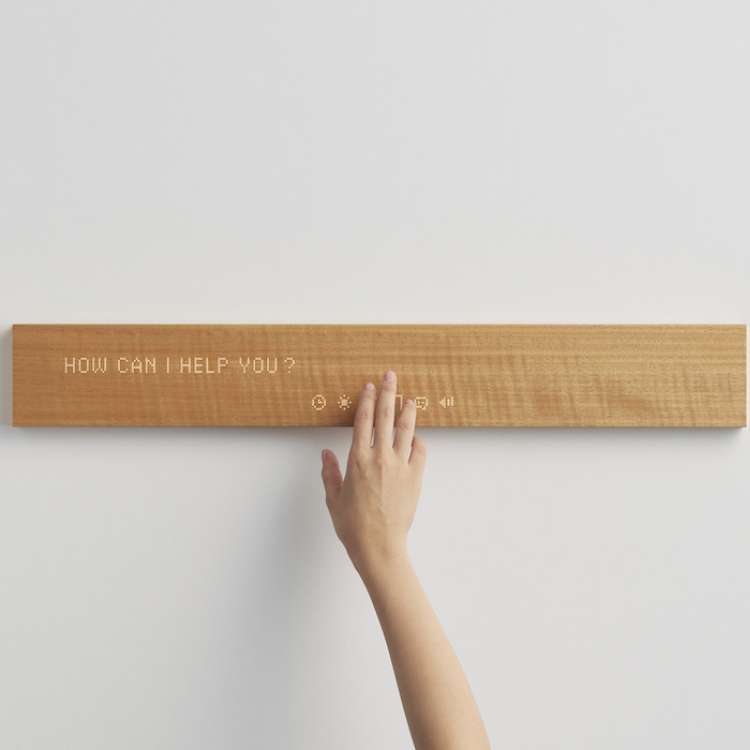 mui
mui lab - JP
Hours and dates
From 31 Oct 2019 to 3 Nov 2019 / from 10:00 to 18:00
mui is a technology that turns a natural wood surface into a touch-sensitive smart screen. The "mui" smart home control panel looks like a beautifully sanded piece of wood until a swipe of one's finger across its surface prompts a display to glow from within the device. The display enables to talk, exchange text and voice messages, check news and weather, adjust the lighting and temperature, play music... The panel returns to looking like a piece of wood in sleep mode, blending in with the room décor. Built around the principles of "calm technology," mui is designed as a distraction-free interface for the post-smart screen era. Drawing inspiration from the Taoist philosophy of "mui shizen," mui is designed to harness the power of cutting-edge technology to create harmony among technology, the humans who use it and the nature surrounding them.
The newest and artistic application of the mui technology is called "Hashira no Kioku (Height Marking in Wood)." It is a smart art system designed to take data, decipher the wonderful human experience and emotions behind it and translate that into a work of art that can bring back the same joyous feelings for the person. Developed collaboratively with Wacom Co. Ltd., the world's leading provider of pen tablets, the system connects a wooden column ("hashira") and a digital pen through the Cloud.
The mui technology has the potential for a variety of other applications.
The company
mui lab
mui Lab is a Kyoto-based IoT design startup specialized in "calm" interfaces. Their systems are designed in accordance with the principles of "calm technology" to stay out of the user's consciousness while fulfilling its purpose. They draw inspiration from the Taoist philosophy of "mui shizen," which means "doing nothing." They believe "technology" can become synonymous of "unintentional," and strive to bring a sense of nature into today's digital living. mui Lab conducts global business from its headquarters in Kyoto, a city known for its successful blending of traditions and technology. mui Lab has presented its work on various global stages, including Milano Salone (2018 & 2019) and Consumer Electronics Show (CES) 2019. mui Lab is a recipient of the Best of Kickstarter Award 2018 and CES Innovation Award 2019.