Marion Laval Jeantet is a bio-artist and performer in the duo "Art Orienté Objet". She is also a researcher in bio-anthropology and ethnopsychiatry, and Professor at the University of Paris-I Panthéon Sorbonne. Her artistic work focuses on the relationship between man and non-human living beings, in particular animality and the interspecies barrier. She co-founded the 'Association for Nutritional Studies against Autoimmune Diseases' and 'Veilleurs du monde' in 1998. She recently published 'No Man's Land', CQFD Editions, 2019; and 'Microbiota, créer et soigner", Les Presses du Réel, 2019.
Medias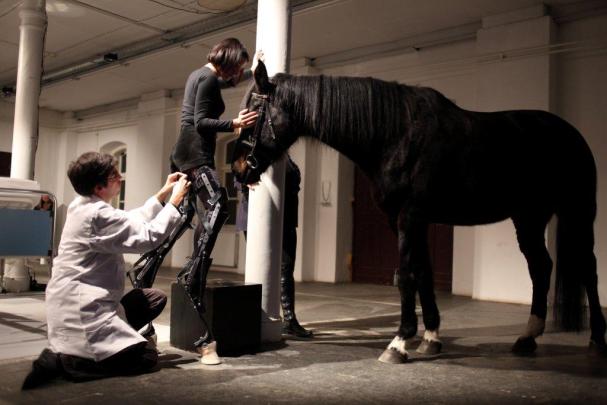 Bioart et microbiote (Talk in french)
After having experienced immune otherness through the experience "Que le cheval vive en moi", The AOO duo naturally became interested in the eco-systemic otherness that is the human microbiota. This interest has led them to two new extreme experiences, "May the Pygmies Live in Me", revealing the complexity of the globalized modern world, and "Holy Coli," la souris en odeur de sainteté. The first experiment questions the reckless destruction caused by technological society in the name of development, but also the complex consequences of globalization on our organisms. As yet unknown consequences that could change our conception of the contemporary world. The second represents an attempt to anticipate the future delusions of the cosmetics industry, through the rehabilitation of a precious and unloved animal: the laboratory mouse.