KIKK in Town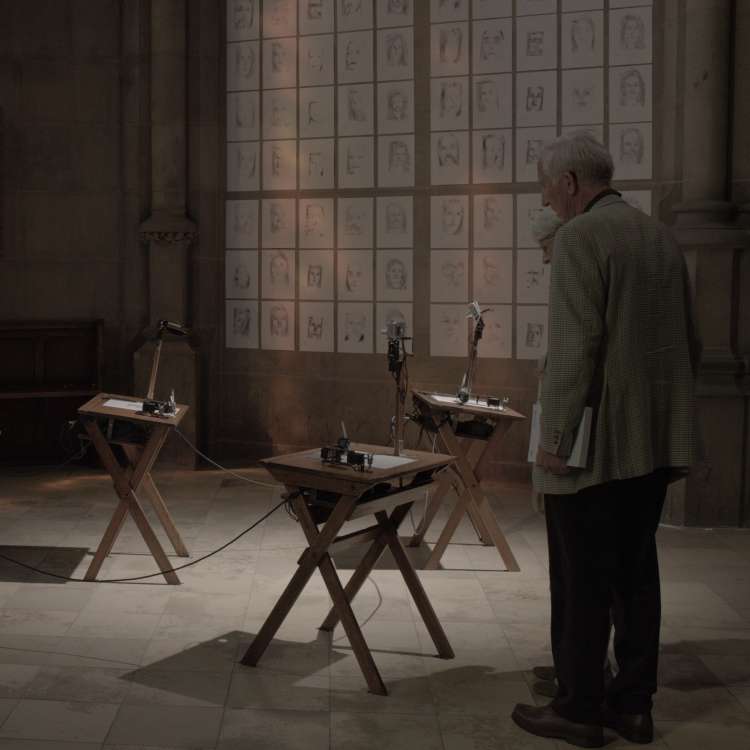 Patrick Tresset
Human Study #1, 5RNP
Hours and dates
From 31 Oct 2019 to 3 Nov 2019 / from 10:00 to 18:00
Brussels based and French artist Patrick Tresset develops artistic installations featuring robotic agents. His artistic installations use computer systems to sublimate the expressive and obsessive aspects of robot behaviour. These systems are influenced by research on human behaviour, more specifically on how humans depict their fellow human beings, perceive works of art and relate to robots. At the same time, Tresset also uses robots and autonomous computer systems to explore drawing and painting practice.
His work, individual or collective, has been exhibited internationally in institutions such as the Grand Palais (Paris), the Centre Pompidou (Paris), the Prada Foundation (Milan), the Tate Modern (London), the Israel Museum (Jerusalem), Victoria & Albert Museum (London), MMCA (Seoul), BOZAR (Brussels) and at events such as Ars Electronica, Update_5, BIAN, Japan Media Festival, where he has received numerous awards...
Originally a painter, Tresset is part of a generation of artists from the Goldsmiths' computer department. Co-director of AIkon-II, he has also developed and taught a creative robotics module and published research articles in the fields of computational aesthetics, social robotics, drawing and AI. Since 2018, he has been an Assistant Professor at the University of Canberra in Australia.
Human Study #1, 5RNP
Human Study#1, 5RNP is a performative installation where the human becomes an actor. In a scene reminiscent of a life drawing class, the human takes the sitter's role to be sketched by 5 robots. The robots, stylised minimal artists, are only capable of drawing obsessively. During the 20 minutes drawing session the human subject only sees the robots alternating between observing and drawing, sometimes pausing. The sounds produced by each robot's motors create an improvised soundtrack. For the spectators, the sitter is an integral part of the installation.
Medias